About Turnkey General Contracting, Inc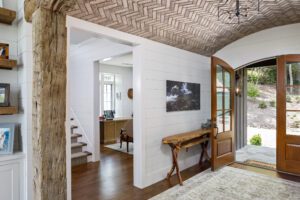 For two decades, Turnkey Construction Group has been synonymous with uncompromising luxury and exceptional craftsmanship. As a premier custom builder in an upscale market, we have honed the art of creating homes that reflect the unique visions and aspirations of our clientele.
Our founder and owner, Brandon, has an unwavering commitment to perfection. With a love for architectural design and an innate passion for details, he has created a brand that blends the finest materials with impeccable construction techniques. Brandon believes that every element, no matter how subtle, contributes to the overall uniqueness of a home. His meticulous attention to detail and dedication to fostering enduring customer relationships have set the foundation upon which our company thrives.
At Turnkey, we understand that each client is distinct, each project an opportunity to transform dreams into reality. Our process begins with an in-depth consultation, during which we listen intently to your preferences and aspirations. This dialogue is the cornerstone of our work, allowing us to translate your vision into tangible architecture.
Unparalleled Expertise: With over two decades of experience in the industry, we possess a profound understanding of luxury home trends, cutting-edge technologies, and timeless design principles.
Luxury Craftsmanship: Our commitment to creating beautiful homes is reflected in every detail. From hand-selected materials to custom finishes, each home is a masterpiece of craftsmanship.
Enduring Relationships: We believe that the journey to a stunning home is as important as the final result. Our emphasis on fostering lasting relationships ensures that your experience is seamless, collaborative, and enjoyable.
Overall Approach: Our services extend beyond construction; we offer comprehensive solutions that encompass architecture, interior design, and landscaping, resulting in a harmonious and cohesive living environment.
Legacy of Excellence: Over the years, Turnkey has earned accolades for its exceptional work, garnering recognition as a leader in the luxury home market.
As we embark on this journey together, we invite you to explore our portfolio, a testament to the diverse influences and innovations that have shaped our company. Join us in envisioning a home that not only redefines luxury living but also encapsulates your essence.
Thank you for considering Turnkey Construction Group as your partner in crafting a home that transcends the ordinary and embraces the extraordinary.
Elevate your living.